The Dnieper–Bug Canal flows east from Brest in southwestern Belarus, just over the border from Poland and less than 50 km north of Ukraine, through Kobryn, to The Pina (river). In Pinsk, The Pina runs into the Prypiat (river). The Prypiat starts at the northwestern corner of Ukraine, crosses north over the border into Belarus near Pinsk, flows east across Belarus, crosses south back into Ukraine near (the city of) Pripyat, past Chernobyl, into the Dnieper (river) at the northern end of the Kiev Reservoir. (Kiev sits at the southern end of the reservoir.)
The Pinsk Marshes (also called the Pripet Marshes) is a wetlands region over 100,000 square miles in size. The region runs along the Prypiat (river) and its tributaries extending to Brest, Mogilev, and Kiev. The city of Pripyat is 221 miles east-southeast of the center of the Pinsk Marshes.
Pripiac, Pripiat, Prypiat.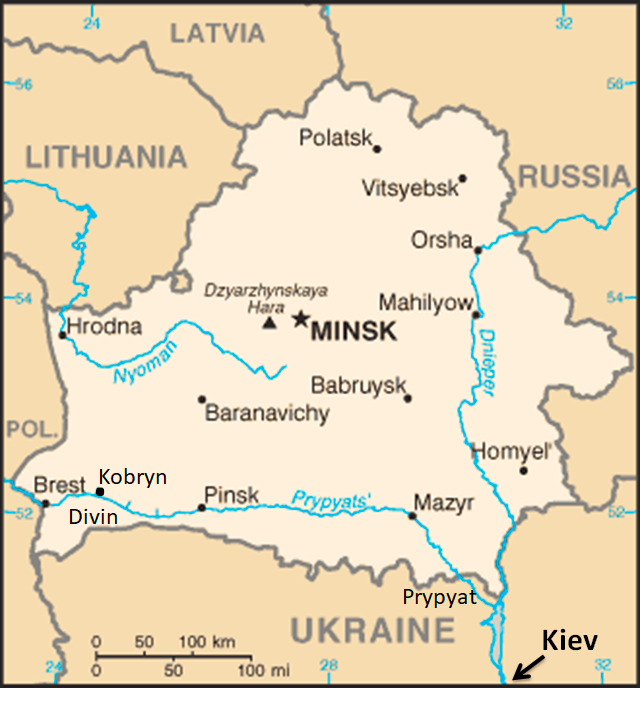 Kiev Reservoir – formed 1960 – 1966. Other names: Kyiv Cistern, Kyiv Sea, Kiewer Meer.
Chernobyl – Chronobyl.
Pskov Oblast – on the Western border of Russia in 2020.
Bessarabia spanned what is now Moldova (and Transnistria) and the Ukraine. In the 1940s control of the area shifted between Romania and Russia, ending with the north and south of Bessarabia incorporated into the Ukrainian SSR and the core into the Moldavian SSR. The partition continued through the independence of the Ukraine and Moldova in 1991. The Jewish population in Bessarabia reached a peak of about 230,000 in 1930 under Romanian rule. During WWII most were killed (by German or Romanian military), starved, or fled the region. In 2004 there were 4,000 Jews in the Bessarabian part of Moldova and another 867 in Transnistria, an unrecognized breakaway republic.